A mother writes about her son's experience
'… he was really sad to leave you and he must have had a very good time with you. This morning he repeated "I want to go on doing lessons with Clare." After his return he told us a lot about his experiences [on the first evening in English language]. He commended your well tasting meals, loved the open and friendly terms with you and the people around him and enjoyed the time with George and Vince very much. And last but not least I think it's a great success that he seems to like speaking English now. That's more than I could hope for…'
Heidi Mitze, Germany
Dear Clare,
You cannot imagine how grateful I am for your excellent work with Enrique and for your hospitality and the exceptional experience you and your friends have given him. We have resumed our regular classes today and I was able to appreciate how Enrique has progressed. Thank you very much indeed.
Rudolf Krzos, head of language college, Madrid
'Clare Hartland's "home stay tuition" is the most likeable way to improve your English. It is a tailor made course in a beautiful sympathetic environment. You live with a lovely family in an interesting city, while you are getting the most competent support for your English upgrade.But Clare is not only a gifted teacher, she is also a great cook!'
Dr Karen van den Berg, Zeppelin University, Germany
Clare and her family are making it fantastically easy for you to make yourself at home. They are nice and lively, and living with them is totally uncomplicated. The food is great and varied, and you can always have lovely British snacks. You will live in a light flooded room and have your privacy when you want it. I would give anyone who wants to make a language course in Britain the advice to stay with Clare.
Mathis, 15, Germany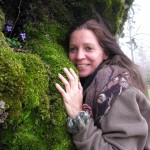 Heartfelt thanks for my stay with you.
I'm particularly thankful for your involvement and creativity.
You have brought me closer to England, this wonderful, yet still mysterious island. With you, I have learned a language, which was previously foreign to me. Now I understand why the Beatles could only have come from England. I will not forget our travels together and our cultural evenings.
I wish you many lovely future students. Heartfelt good wishes, Angelika from Switzerland.
Angelika Müller, teacher, Switzerland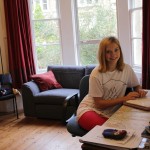 Staying with Clare and her lovely family is not only the best chance to get to practise your English, it's also a really exciting and beautiful experience for life! Clare is a great person, her cooking is gorgeous and the city is wonderful!
I really enjoyed my time in Bristol!
Kaja, 16, Germany
THIS IS WHAT I WANT!
THIS IS WHAT I WAS LOOKING FOR!
My experience after four weeks working with Clare Hartland has been completely satisfactory. Much work remains, but I have made the first and most important steps, led by the best hand. Teacher, family, friends and city have allowed me to find optimal conditions for learning.
Special thanks to George, Esme, Belinda, Ralph, Andrew, Linda, Peter, Jude, Charlotte, Deb ….. and to the little Edmund.
I´ve enjoyed fast and easy communication like a child, I´ve learnt as a student and I have progressed as a person. Now I love my English. It is simple but I love it. And I can just say … Thanks!! See you soon , and next time we´ll do even better.
Enrique Santos, market analyst, Alicante, Spain.
Océane was not my student; she was a delightful 15 year old who needed an English family to enable her to fulfill her ambition of studying for 1 year at an English school. We became her 'English family'.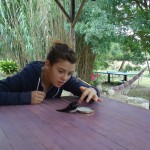 I'm Océane, a French lycée student. I spent a whole academic year staying with Clare's family. I had really good moments integrating myself in their lifestyle. It was different from what I knew and became an interesting experience. Clare is an artist (painting, felting, sewing) and loves sharing her skills. I liked this lively household, and meeting the many people who came to visit. Living with 2 children of different ages (9 and19) helps a lot to learn the language. Clare's delicious cooking was a daily pleasure, and I've kept some of her recipes. I appreciated staying in St Matthews Road because it's a calm street, near the city centre and several parks. I will always have good memories of this stay.
Océane, lycée student, Carcassonne, France