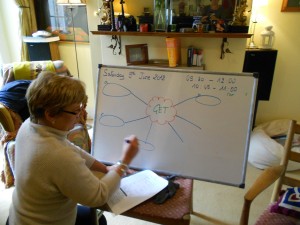 Improve your business English rapidly with Lucy Tilney, ex BBC Television (BBC Television Corporation) professional, while you are totally immersed in an English linguistic environment.
Lucy's home is centrally located, in an attractive part of Bristol. From there it is a 20 minute walk to the city centre and a 15 minute walk to the delightful Clifton Village area, where you can visit the famous Clifton Suspension Bridge. There are many other things to enjoy and visit in Bristol, such as the Harbour Side with its fashionable bars overlooking the river and the Georgian House and the City Art Gallery and Museum and the newly built Cabot Circus shopping centre.
The business course comprises:
20 hours of intensive one to one tuition, mornings only, tailored especially to your needs, one afternoon or evening accompanied excursion per week.
The afternoons are free for you to write emails for work. Wireless internet, desk and unlimited coffee and tea available all afternoon.
Help with English for business meetings, writing emails, telephone calls, video conferencing with Skype. Preparation for exams or business trips. Advice and mock interviews in English as well as help with your CV in English and explanation of cultural differences and English rituals of politeness.
Each class is 60 minutes long and there is usually a short break in the morning. We use books, cards and games to help you, as well as authentic materials, such as newspapers and radio programmes. You can bring your presentations and assignments from work. In that way, we can use your own unique business material for your classes.
There is one afternoon or evening excursion per week which is arranged around your own interests, whether you like shopping or visiting museums, going to see live music or to the cinema or having a drink at a typical English country pub. Extra excursions are available on request and are charged separately, depending on destination and duration.
All course books and teaching materials are included. Your bedroom is a warm and comfortable room with a desk so you can study and all meals (breakfast, lunch and dinner) are also included.
Further Online Lessons
You can have English lessons by internet, using Skype with a web cam, for all levels. This is a very effective way for students to continue their studies after they have returned home, to ensure that all they have learned will not be lost through lack of practice.